It was believed that optics as a science stopped its development in the middle of XX century. However, last decades brought new revolutionary discoveries of foundational principles of quantum growth, lasers, further development of classic ideas. A most prominent of all studies concerned the usage of stereo-effect (principle of anaglyph) that expands the practical usage of a regular computer screen and opens new horizons of perceptions.

Stereo effect is achieved by separating two images, left eye/right eye images. These two variations are generated into one 3d image due to work of our brain.

As a basis for creating stereo-images, the so-called method of additional colors was used.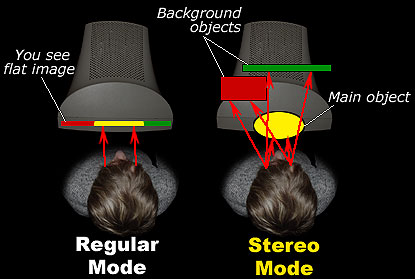 The additional colors are the colors that if multiplied turn into black and if added produce white color. The additional colors are red and blue, crimson and green and many other pairs, which you may get on your computer screen using "color selection" option and "negative" in image processing programs. Creating a negative of some color you will get its addition. If you multiply and add these colors, your will get black and white colors accordingly.
If you add additional light filters, you will see nothing since the visible light range cannot go through them. But if two rays of white light are projected through additional light filters and the colors are combined in the same place of the white screen, they will turn into white again.
In conclusion, we would like to underline that this site offers you a unique stunning show! You will experience a real presence effect and your computer screen will transform into a transparent window into the world of pleasures!